In the Press
Ashes made into special jewelry
Quad City Times - By Katie Vaughn | Thursday, April 26, 2007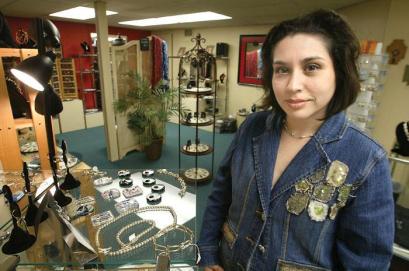 MAQUOKETA, Iowa — Kiki was part of Silvia Engel's family. The West Highland white terrier puppy loved to play and roam. But then one day about five years ago, she was hit by a car and killed.
The family was devastated, Engel said. They buried her with a funeral ceremony, but when Engel was thinking of Kiki last year, she found herself wishing they could have memorialized their beloved pet in a different way.
"I thought it would have been nice to do something with the ashes," she said.
A jewelry designer, Engel took to the computer and researched memorial and cremation jewelry. But she wasn't satisfied with the somber pieces she found, so she decided to make her own line, and Love Ashes was formed.
Engel established Mi Tierra designs 2½ years ago, originally as an import business, but she has since expanded into making her own glass jewelry. As a native of Veracruz, Mexico, who moved to the Midwest to be with her husband and raise their three children, Engel wanted a way to share her culture with her new neighbors, she said.
In her studio, in the back of a showroom under the insurance company office her husband runs, Engel crafts her Love Ashes pieces — custom pendants that she hangs from ribbons and glass tiles she frames for customers.
Working with combinations of seven colors, Engel starts with a square of black glass. To that she adds layers of other colors, and she places a sprinkling of ashes in between.
It took some experimenting to find a design that would accommodate the ashes, she said. The owner of a nearby pet cremation company gave her some ashes to use, but the ashes caused some problems while she was firing the glass.
"For some reason, the ashes make the glass bubble," she said.
Now, Engel forms the glass in a quadrant pattern with a small square of glass on top. The arrangement allows air to escape without disrupting the design.
Customers can either have the ashes hidden between layers of glass or have them remain visible on the backs of the pendants and tiles. In the latter situation, Engel places ashes on top of the black back piece and then adds a clear layer of glass. The ashes are invisible to others looking at a given piece, but the owner can view them whenever he or she likes.
Engel has had roughly 15 orders and most customers ask for visible ashes. So far, all of the commissions have involved pet ashes, but Engel said some customers have asked her about using human ashes.
Pendants cost $65 and take one to two weeks to make, while framed memorials run $135 and require two to four weeks to create, she said. All pieces are one-of-a-kind, with the look depending on how hot they become in the kiln and how long they're fired, she said.
While Engel began working on the Love Ashes line about a year ago, she began selling pieces and accessories online last week. She's still working out some kinks on her Web site, but hopes to begin advertising nationally and internationally soon.
She also hopes to find exposure in pet and funeral magazines as well as by attending pet expos and funeral conventions.
Engel realizes some people will find her jewelry line morbid or unappealing.
"I'm prepared to hear that," she said. "I know it's a delicate topic, I know not everyone's going to like what I'm doing."
But she believes Love Ashes will be a welcome alternative to traditional urns and cremation jewelry. She's received enough positive feedback that she thinks there will be demand for her products.
Engel wants customers to have a personalized and joyful reminder of loved ones to keep close to their hearts or in a special place in their homes.
"It's something that's as unique as the life it represents," she said.
Katie Vaughn can be contacted at (563) 383-2282 or kvaughn@qctimes.com.
This acticle also appeared on Diamond Ring.com.