Catalog _ Classic™ Line _ Round Memorial Pendants
Capture the memory of a loved one in a special round pendant. Created by layering small strips of colored glass to create a vibrant, warm look and available in a bold palette that includes eight spectacular colors, our pendants are both energetic and rich. Additionally, our multi-color pendant blends a rainbow of the eight colors into a vivid display of beauty – a treat for all to see, indeed!
Available in two sizes, these pendants feature bold colors that radiate through a soft, circular shape.
Please select size:









Click on a pendant to select.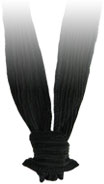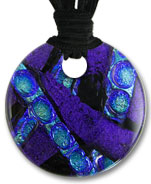 Combine your pendant with a complementing, one-of-a-kind pair of dangling earrings designed in dichroic glass and sterling silver findings. The earrings are available in seven color schemes to match the memorial pendant you choose. Earrings may be designed with visible or hidden ashes.
| | |
| --- | --- |
| Visible | Hidden |
Please select whether you would like the ashes visible or hidden.
Prices:
| | |
| --- | --- |
| Memorial Pendant 1.25" | $ 275.00/each |
| Memorial Pendant 2" | $ 285.00/each |
| Matching Earrings | $ 115.00/pair |
| Black Ribbon | included |
Each pendant includes a 36" black hand-dyed silk ribbon that may be threaded through the small hole in the pendant. For those who desire a "dressy" look, a sterling silver pinch bail may be purchased separately.
As with all of our cremation jewelry, our round pendants may be designed with visible (viewed from the back) or hidden (fired into the glass) ashes. All pendants, unless otherwise specified, will be made with hidden ashes.
Actual colors may differ from those shown above due to the complexity and unreliable nature of dichroic glass. Each Love Ashes pendant or framed memorial is a one-of-a-kind creation.