Catalog _ Hair™ Line _ Round Memorial Pendants
Treasuring a lock of hair is a timeless symbol of love and devotion. Aimed at families and others who didn't have a loved one cremated, the Lock of Hair round keepsakes capture the nuances and exceptional beauty of a few strands of hair within a personalized, breathtaking pendant. Whether hair or fur, no two Lock of Hair pendants will ever be alike.
The Lock of Hair Line round Pendants are designed in nine background color schemes, and the hair may be dyed with either black or white fusible glass paints. The round pendants are available in two sizes (2-inch and 1.25-inch).
Each pendant also includes a 36-inch hand-dyed, silk ribbon that may be threaded through the small hole in the pendant. For those who desire a "dressy" look, a sterling silver pinch bail may be purchased separately.
Please select size:
















Click on a pendant to select.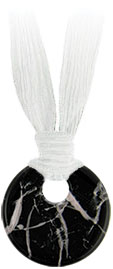 Prices:
| | |
| --- | --- |
| Memorial Pendant 1.25" | $ 275.00/each |
| Memorial Pendant 2" | $ 285.00/each |
| White Ribbon | included |
Actual colors may differ from those shown above due to the complexity and unreliable nature of dichroic glass. Each Love Ashes pendant or framed memorial is a one-of-a-kind creation.