Catalog _ Pure™ Line _ Round Memorial Pendants
A love that is pure is also timeless. Expressing the boundless love you share for those you've lost, the Embrace memorial pendants feature a simple, rounded design with poignant colors that attempt to elicit a joyful, cherished remembrance.
Pendants are designed in solid glass and available in six color schemes and two sizes, including:
The Large Pendant, measuring 2-inch
The Small Pendant, measuring 1¼-inch
Our Pure pendants are available with visible or hidden ashes, and each pendant comes with a complimenting 36-inch hand-dyed black ribbon to create a stylish ensemble that is perfect for any occasion.
Combine your pendant with one of our coordinating earrings or rings for a truly spectacular look.
Please select size:






Click on a pendant to select.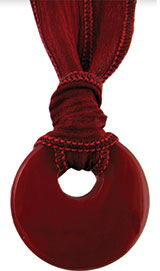 Combine your pendant with a complementing, one-of-a-kind pair of dangling earrings designed in dichroic glass and sterling silver findings. The earrings are available in six color schemes to match the memorial pendant you choose. Earrings may be designed with visible or hidden ashes.
Prices:
| | |
| --- | --- |
| Memorial Pendant 1.25" | $ 275.00/each |
| Memorial Pendant 2" | $ 285.00/each |
| Matching Earrings | $ 115.00/pair |
| Black Ribbon | included |
Each pendant includes a 36" black hand-dyed silk ribbon that may be threaded through the small hole in the pendant. For those who desire a "dressy" look, a sterling silver pinch bail may be purchased separately.
As with all of our cremation jewelry, our round pendants may be designed with visible (viewed from the back) or hidden (fired into the glass) ashes. All pendants, unless otherwise specified, will be made with hidden ashes.
Actual colors may differ from those shown above due to the complexity and unreliable nature of dichroic glass. Each Love Ashes pendant or framed memorial is a one-of-a-kind creation.