In the Press
Love Ashes – To Wear & Remember
The Dead Beat - Summer 2007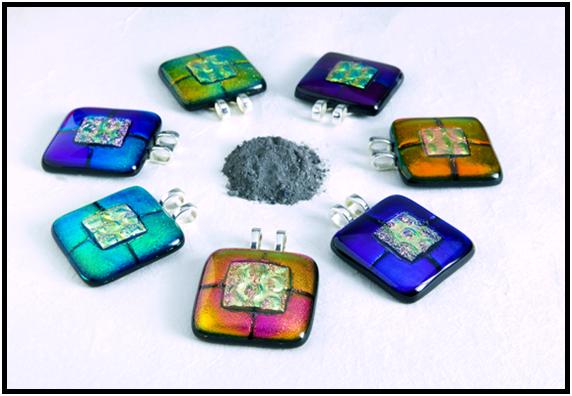 Saying goodbye to a loved one is never easy. But thanks to artist, Silvia Engel, cremation jewelry as vibrant as the life it represents is now available. From her studio in Maquoketa, Iowa, Engel designs and creates wearable art, specializing in colorful dichroic glass. Engel is well-known for her beautiful, one-of-a-kind jewelry. But Engel's desire grew beyond creating beautiful jewelry. She dreamed of a way to help people through her work.
As Engel experimented in her studio, she found the answer — cremation jewelry. Through trial and error, she perfected a technique to fuse ash between layers of colorful glass. With the launch of her company, Love Ashes , Engel is fulfilling her dream as she creates glass tiles for pendant necklaces or framed memorials.
The square tiles are available in a variety of two-toned color combinations, hand-selected by Engel for their vibrancy. Necklaces retail for $65 each and include a 36" black hand-dyed silk chord. Memorials retail for $135 each and feature a tile mounted in a 7" x 8" engraved frame. An iron easel stand for the frame is optional at $22/each. Having the cremains visible from the back of the necklace is an optional feature.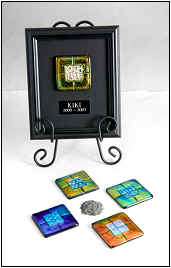 "For many people, being able to see the cremains is very comforting and reassuring," said Engel.
To create the pendants, Engel cuts the glass by hand and assembles the cremains before firing it in the kiln for up to 12 hours. "It must pass my inspection for quality before it leaves the studio," she said. Engel says that customers love the fact that each pendant and memorial is a one-of-a-kind creation. "Because of the complex and variable nature of dichroic glass, no two pieces are ever identical," she said.
Love Ashes is also available for pet remains and is marketed primarily through veterinary clinics and pet cemeteries.
Orders can be placed by calling Silvia Engel at 1-888-GLAS.ART, or by ordering online at www.loveashes.com or by email at info@loveashes.com.